Mini Butterfly Garden Kit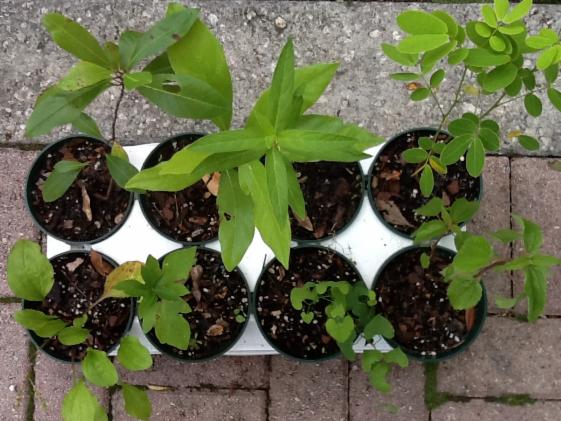 A Must For The Butterfly Lover!
8 Easy to Grow Florida Butterfly Host Plants
*Perennial
*Heat Tolerant
*Thrive in Average Soil

Attracts Over 15 Butterfly Species
Call us at 407 851-5873.
This kit is available for $40.00
The 8 starter plants in the kit comes in 6" pots.
The kit is sold locally in Orlando and the surrounding area.
We will select plants from the following plant list based on availability:
Plant List

Bastard Indigo
Amorpha fruticosa
Host: Dogface

Carolina Willow
Salix caroliniana
Host: Red spotted Purple,
Tiger Swallowtail & Viceroy

Coffee Senna
Senna occidentalis
Host: Sulphurs

Corky Stem
Passiflora suberosa
Host: Heliconius & Fritillaries

Dutchman's Pipe
Aristolochia sps.
Host: Pipevine & Polydamas
Swallowtails

False Nettle
Boehmeria cylindrica
Host: Red Admiral & Question Mark

Hercules-Club
Zanthoxylum clava-herculis
Host: Giant Swallowtail

Maypop
Passiflora incarnata
H: Heliconius & Fritillaries

Plantain
Plantago sps.
Host: Buckeye & White Peacock

Red Bay
Persea borbonia
Host: Palamedes & Spicebush

Swamp Milkweed
Asclepias incarnata
Host: Monarchs & Queens

Water Dropwort
Oxypolis filiformis
Host: Black Swallowtail

Water Hyssop
Bacopa monnieri
Host: White Peacock

Sweet Bay
Magnolia virginiana
Host: Tiger Swallowtail

Wild Cherry
Prunus serotina
Host: Red Spotted Purple & Tiger
Swallowtail


A Must For The Butterfly Lover!